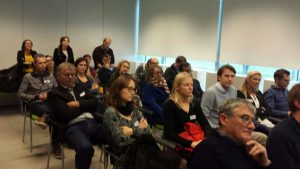 The first BISEPS cross border task force, held on November 17th, was a big success. There were 30 experts from the 4 project countries present. Their input and feedback is essential to make BISEPS succesfull.
After a very productive meeting, the group of experts and partners went to visit some very interesting companies in the region:
Xant | Mid-scale windturbine and short-rotation coppice on industrial land | Harelbeke
Vyncke | Biomass burners by Vyncke, award winner of "entrepreneur of the year 2016" | Harelbeke
A&S | Bio-energy power station at A&S Energie and heat network development by U&A | Oostrozebeke
Find here the report and the participant list of the first cross border task force.