The living lab Mid West Flanders covers Roeselare, Lichtervelde and the canal zone from Izegem to Wielsbeke.
> Roeselare is a  city and a municipality (including Beveren, Oekene and Rumbeke) in the Flemish province of West Flanders in Belgium. The business parks of Roeselare were chosen because of the heat map
that was already made for this region in the previous ACE and SAFE-ICE Interreg 2 Seas projects. Moreover, Roeselare has a heat network. The heat network was developed to use the waste heat of the waste incinerator MIROM. The heat network will be developed further in the future.
> Lichtervelde is situated north of Roeselare. Lichtervelde signed the 'Covenant of Mayors' and BISEPS will be an action in the 'Sustainable Energy Action Plan'.
> The canal Roeselare-Leie is a man-made waterway between the city of Roeselare and the Leie River. Following the canal one passes the cities of Roeselare and Izegem and the municipalities of Ingelmunster, Oostrozebeke and Wielsbeke. The city of Meulebeke was included in the living lab because of energy-opportunities detected in a former Interreg NWE project ARBOR.
All chosen cities and municipalities in the living lab locate several business parks of which the biggest are located nearby the canal. Large multinational groups own various plants in the area, even though a lot of SMEs are present too. This combination and the fact that a lot of them are energy-intensive offers great opportunities on energy synergies and renewable production, for instance by using the common sources of excess heat and heat from combined heat and power (CHP). The city and municipality councils are committed well to support all kind of companies offering a good collaborative starting base for the BISEPS-project.
Involved project partners: POM and WVI.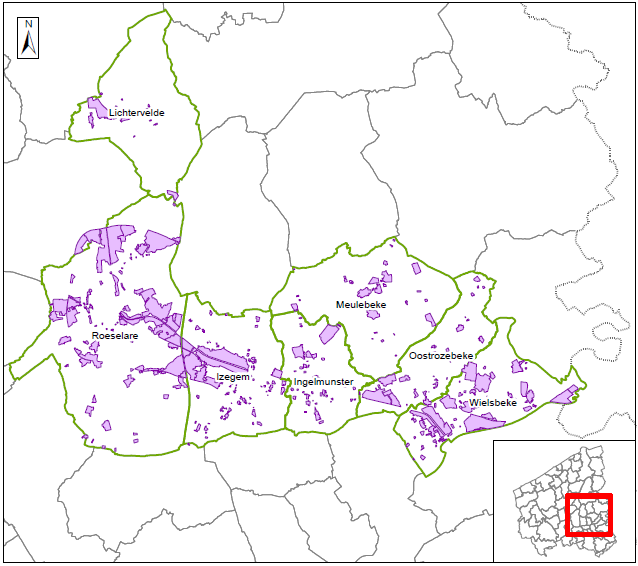 ©GDI Vlaanderen, incorporation POM West-Vlaanderen